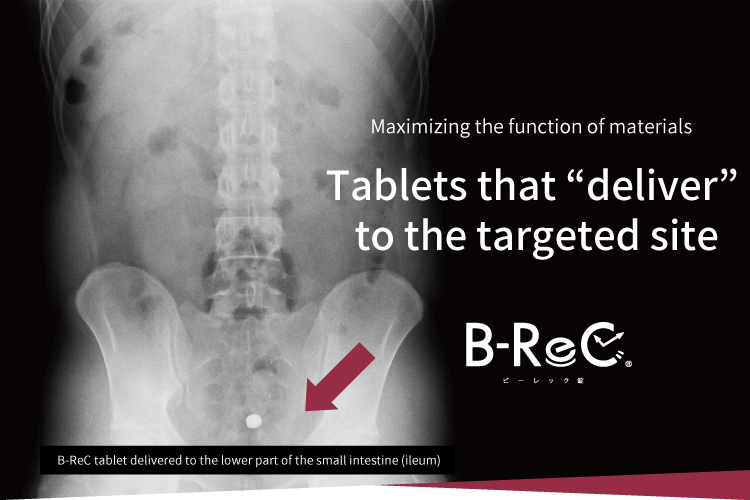 Not an era of complacency,
but of sustainability, delivery,
and control for tablets as well.

The release can be appropriately controlled
to ensure delivery to the targeted site.
High functionality

High absorption

Long-lasting
Producing the delivery according to the customer's request
Point

1

Delivery function
in the digestive tract

We confirmed the pharmacokinetic profile of ordinary tablets and B-ReC tablets. Ordinary tablets completely disintegrated within 90 minutes from the stomach to the duodenum, but the jejunum-disintegrating B-ReC tablets did not disintegrate in the upper small intestine (jejunum) even 180 minutes after ingestion, but in the middle small intestine after 240 minutes.

This proves that
the formulation can deliver the
functional ingredients
to the target site in the
digestive tract.

Point

2

Release control for functional ingredients

The nature of the release control was evaluated using glucose absorbed in the upper digestive tract as a model. Eleven healthy volunteer subjects were given glucose tablets, and data on their blood glucose behavior was analyzed. The greater the sustained release, the smaller the AUC (area under the blood concentration curve) and the lower the Cmax (maximum blood concentration). This suggests that the absorption of glucose in the upper digestive tract was suppressed.

Release control functions
can be produced freely.

Point

3

Improved bioavailability of functional ingredients

B-ReC tablets containing vitamin C (VC) were used to verify the manner of urinary excretion of VC by sustained release in the small intestine. B-ReC tablets containing VC resulted in less urinary excretion of VC than ordinary tablets, and the total VC excretion at 24 hours after ingestion was about one-half that of ordinary tablets.
This result suggests that the VC release of B-ReC tablets in the intestinal tract was limited, and the rapid increase of VC in the blood was suppressed, thus meaning excretion into the urine was suppressed.

A greater amount of VC is retained in the body, suggesting increased bioavailability.
Our technology was featured in a UK magazine called "Research Outreach."