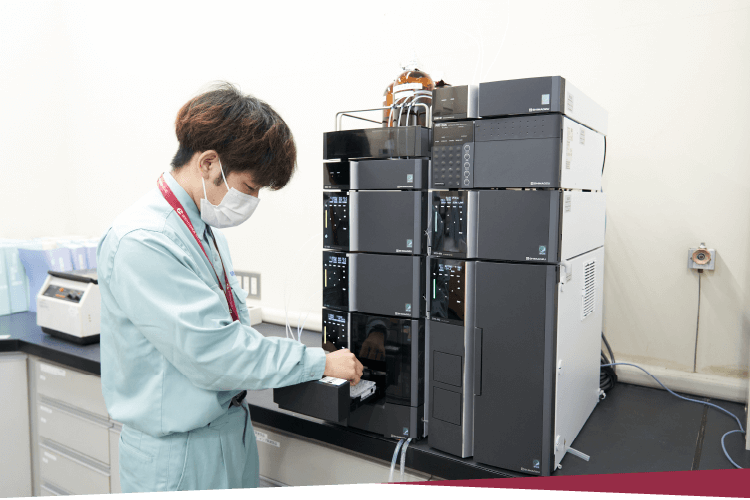 Quality Management
The Foundation for Our Products
Bizen Chemical manufactures safe and secure products in accordance with our quality and food safety policies.
We have established a system in which each division cooperates with various committees created for each product group and purpose, centered on the Quality Assurance Division.
Quality Policy (ISO 9001: Company-wide)
1. Supply safe and secure products and provide quality, prices, delivery dates, and proposals that please our customers.
2. Implement a PDCA cycle to achieve world-class quality, and make ongoing improvements.
Food Safety Policy (FSSC 22000: Formulation Factories)
1. We set food safety goals based on FSSC 22000, and make ongoing improvements.
2. We carry out regularly scheduled management reviews and make ongoing improvements
to our food safety management system.
3. We will comply with relevant laws and regulations, such as the Food Sanitation Act, as well as requirements imposed by our customers.
4. We will continue to communicate openly, both inside and outside the company, and share information related to food safety.
5. We will provide employees with the training necessary for acquiring the knowledge and skills required for food safety.
Quality Management
Bizen Chemical ensures that the required level of quality is achieved and maintained,
while striving to improve it.
Raw materials

Raw material inspection

Pharmaceutical intermediates

Process inspection

Final product

Product inspection

After shipping

Product sample inspection
Collection and storage of specimens
When accepting and managing raw materials, we check both the actual products and information on standards. We collect and store specimens from the inspection targets in each process at our factories, in accordance with regulations.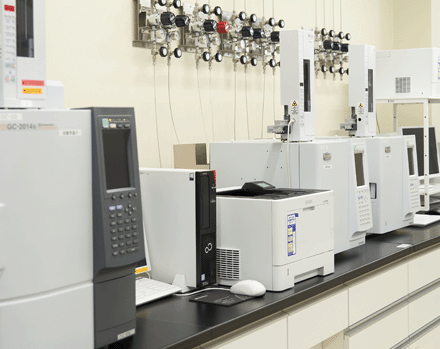 Inspection
We set the test methods and quality standards for each sample according to industry standards and agreements with our customers. Our expertly trained technicians use properly managed equipment and reagents to inspect each sample.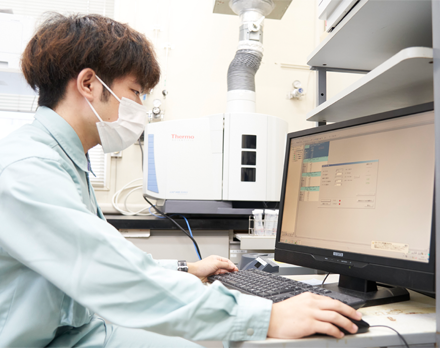 Management of inspection results
We take care to ensure that the raw data of inspection results and related documents are stored properly. We determine if the inspection results are in compliance with standards, and submit the results in an inspection report.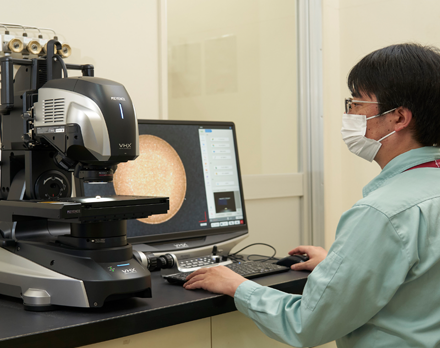 Quality Assurance
Bizen Chemical has introduced and operates systems for the management of quality and food safety.
We share customer feedback and other information throughout the company, and strive to maintain and improve peace of mind and satisfaction.
Management of our factories
We evaluate the available information to make a determination about which raw material to use. In addition, we perform internal audits to confirm that all production activities in our factories are carried out in accordance with standards, from the delivery of raw materials to the delivery of final products.
Training
We conduct regularly scheduled training in all departments throughout the company. We are always working to raise the level of quality company-wide, based on our expert knowledge of information related to quality, food safety, and other business-related matters.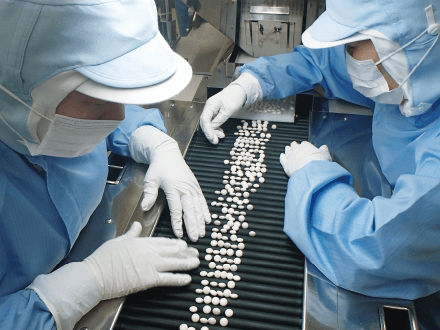 Management of foreign matter and defective products
We manage foreign matter according to the required level of cleanliness in each production area (change of clothes, adhesive rollers, air showers, etc.). Depending on the production line, we have installed metal detectors, sieves, filters, and other necessary equipment. Defective products are detected and removed either by equipment or visual inspection.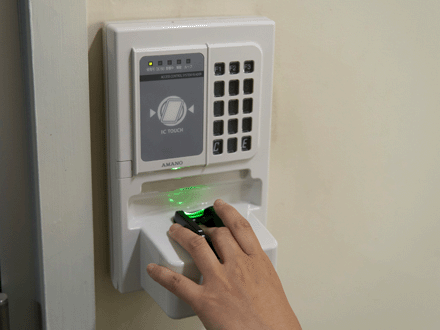 Food defense
We believe that a relationship of trust between employees is of utmost importance, and therefore strive to maintain active communication. In addition, access to company premises by anyone who is not employed here is restricted. Furthermore, to prevent any breach of security, we implement preventive management that includes an entrance management system and surveillance cameras at the formulation and API factories.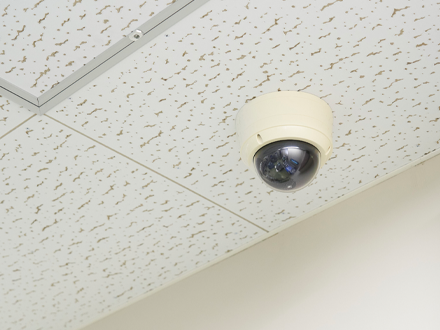 Acquisition of Certifications
We have acquired certifications from a variety of organizations based on our policy of safety and security first.
We also deliver products of reliable quality to our customers overseas.
Health Food Products GMP

On November 9, 2005, we obtained Good Manufacturing Practice (GMP) certification for dietary supplements from the Japan Health and Nutrition Food Association.

ISO 9001

As of July 18, 2006, the Japanese subsidiary of the British Standards Institution (BSI) certified that our quality management system is being operated effectively.

FSSC 22000

On January 24, 2022, we obtained the FSSC 22000 international standard for food safety management systems certification from the Japanese subsidiary of the British Standards Institution (BSI).

EU-HACCP

As of March 1, 2011, we have obtained Ministry of Health, Labour and Welfare certification for facilities handling fish and fishery products to be exported to the EU.

FDA GMP in API Manufacturing

We have passed the GMP inspection for the manufacturing of API pharmaceutical intermediates by the US Food and Drug Administration (FDA).
Business Permits
Type 2 pharmaceutical manufacturing and sales business

33A2X00012

Quasi-drug manufacturing and sales business

33D0X00008

Cosmetics manufacturing and sales business

33C0X00020

Pharmaceutical manufacturing business

33AZ000069

Quasi-drug manufacturing business

33DZ006016

Cosmetics manufacturing business

33CZ009024

Edible oleo manufacturing business

(Bizen Public Health Center) No. 089100

Additive manufacturing business

(Bizen Public Health Center) No. 330056

Confectionery manufacturing business

(Bizen Public Health Center) No. 290131

Dairy manufacturing business

(Bizen Public Health Center) No. 300184
Affiliated Organizations
Japan Health and Nutrition Food Association
Okayama Pharmaceutical Industry Association
Kansai Pharmaceutical Industries Association
CRN Japan
The SAC Association
L8020 Council
DHA/EPA Council
Okayama Bioactive Research Society
GOED (Global Organization for EPA and DHA Omega-3s)